Electronics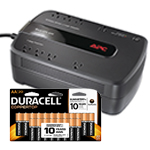 Batteries & Power Protection
Phones & Accessories
Networking & Cables
How do electronics improve productivity?
Electronics have changed the way we do business. From calculators cutting the time it takes to compute by hand to Internet cloud services making file sharing easier than ever, electronics have helped boost productivity, efficiency and safety in and out of the workplace.
Inside your office you can set up a reliable network with information backups and security measures that provide everyone with access to critical information, use CRM software to organize your customer base and install collaboration software to help streamline projects. Try boosting the IQ of your office with smart devices like voice assistants, smart cameras and a smart thermostat which can be the key to improving safety and energy efficiency. As far as making connections outside your place of business, you can set up video conferencing and virtual meetings to connect around the globe in person without leaving your desk.

How can I outfit my office with the right electronics for my business?
The wave of technology is always changing - evolve along with it with a little help from Office Depot. The first step in finding new electronics for your business is to define your needs. Whether you need laptops and computer accessories for your employees to work remotely, presentation equipment that will help you make a lasting impression or are having trouble deciding between a single-ink and multi-ink printer, Office Depot is here to help your business become more tech savvy. You can consult an associate in person at your local retail store and reach out via telephone or live chat 24/7.