Advil Liqui-Gels Pain Reliever Refill, 2 Tablets Per Packet, Box Of 50 Packets
Item # 100456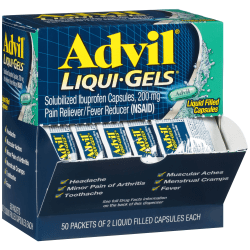 100456
was removed.
Thank you, you will now be redirected to comparisons.
Just a moment while we prepare the page
Check In-Store Availability
---
Description
For fast-acting relief from a wide variety of aches and illnesses, reach for Advil Liqui-Gels. These Advil packets work great for headaches, toothaches, the common cold and arthritis, so you can get back to seizing the day.
Advil tablets handle tough aches and pains.
Advil medicine is great for headaches, minor arthritis and other joint pain, muscle aches, backaches, menstrual pain and aches and pains of the common cold.
---
Product Details
| | |
| --- | --- |
| Item # | 100456 |
| OfficeMax # | 20890154 |
| Manufacturer # | 16902 |
| | |
| --- | --- |
| color | Blue |
| medicine type | Pain Relief |
| quantity | 50 |
| brand name | Advil |
| Product Type | Pain Relief Capsule/Tablet |
| Ready To Ship | Yes |
| dosage | Single-dose |
| Medicine Per Dosage | 1 |
---
From the Manufacturer

|

Powered by
The Facts about Ibuprofen/Advil And Covid-19
Consumer safety is our No. 1 priority and we want people to feel confident in their treatment choices for fever and pain. That is why we are sharing information based on what we know about COVID-19 and the use of ibuprofen today and the historical facts we have at hand.

Currently, there is no scientific evidence that directly links the use of ibuprofen or NSAIDs with worsened outcomes in patients suffering from COVID-19 infection.

If you have concerns about taking products containing Ibuprofen, please consult your healthcare provider.
COMBINING MEDICATIONS

Advil is committed to your safety. As with any OTC medicine, it is important to understand the potential for interactions with other medication. If you are taking ibuprofen with any other drugs, prescription or nonprescription, consult with your doctor.

POTENTIAL HEALTH EFFECTS

Ibuprofen has one of the lowest toxicity levels of all over-the-counter pain medications, limiting the risk of overdose situations. Due to its wide therapeutic margin and low toxicity profile, serious overdose situations or instances of death are rare.

ADVIL AND PREGNANCY

Can I take Advil if I'm pregnant?

Unless directed by a doctor, Advil should not be taken during pregnancy.

Ibuprofen should not be used during the third trimester of pregnancy.

It's especially important not to take ibuprofen, the main ingredient in Advil, during the last 3 months of pregnancy. Unless directed by a doctor, ibuprofen should not be consumed during this time.

PRE-EXISTING HEALTH CONDITIONS

When used as directed, it's uncommon for Advil to cause adverse effects. If you have a history of stomach problems, high blood pressure, heart disease, liver cirrhosis, kidney disease, asthma, or had a stroke, make sure you consult with your doctor before taking Advil.
Frequently Asked Questions
Learn more
Why Choose Advil?

While there are many pain relievers available for sale without a prescription, it is important to know the differences between them. The pain reliever in Advil® (Ibuprofen) is part of a class of drugs called non-steroidal anti-inflammatory drugs (NSAID) that also includes aspirin and naproxen sodium. Clinical studies have shown that when taken as directed, Advil® is a safe and effective pain reliever.

When taking other medications, it is important to understand the ingredients to reduce the risk of drug interaction and adverse effects. Advil® is different than other OTC pain medications and does not contain acetaminophen, an active ingredient often found in many other pain relievers.

Advil® is the #1 doctor recommended pain reliever for joint pain.3 For over 30 years, patients and doctors have trusted Advil® to deliver powerful relief from many kinds of acute pain: headache, muscle aches, minor arthritis and other joint pain, and backache.

3 Based on a monthly survey of doctor recommendations.
Overview
Why Advil® PM?

When pain keeps you up at night, say goodnight to pain with Advil®PM. Advil®PM combines the #1 selling pain reliever (Ibuprofen) with the #1 selling sleep medicine (Diphenhydramine)** to help you sleep the whole night.>>

**Among OTC brands
>>Based on 7 hours of sleep which is the
minimum recommended amount for adults
Advil®PM is good because 73% of sleep aid users suffer from physical causes of sleeplessness, like pain, that sleep aids alone don't address.

Advil®PM works in two ways to combat pain and sleeplessness by combining a pain reliever with a non-habit forming sleep aid.

The two active ingredients in Advil®PM have a long history of safe and effective use when used as directed. Ibuprofen has been available for over-the-counter use for over 30 years and Diphenhydramine has been used for over 50 years.
5 Sneaky Reasons You're Not Sleeping Well

How many times have you gotten into bed early, determined to get a good night's sleep, only to spend hours lying there not sleeping? While sometimes there's a clear work deadline or family emergency keeping you awake, there may be some not-so-obvious reasons too. Find out why you aren't sleeping soundly —and how you can finally get a good night's rest.

1. You bring your phone or tablet to bed. Your habit of scrolling through your feeds or checking e-mail in bed may be disrupting your shut-eye. That's because those screens emit what's called blue light. This type of light suppresses melatonin, a hormone that causes you to feel sleepy. Give your devices a curfew, and switch off phone, tablets, and computers at least an hour before bedtime.

2. For dessert, you had a fudgy treat. Chocolate serves up a dose of caffeine: A 1.5-ounce milk-chocolate bar contains nine milligrams (mg) of caffeine, more than double the amount in a cup of decaf coffee. Dark chocolate packs in even more: Half a bar of extra-dark chocolate can contain 35 mg, which is the equivalent of sipping a cup of brewed coffee.

3. You're battling pain. You've got a headache, menstrual cramps, or a muscle or joint ache. Along with draining your day, that pain can wreak havoc on your sleep. Research shows that pain is linked to poor sleep, middle-of-the-night waking, and less shut-eye overall. For pain associated with sleeplessness, consider trying a nighttime pain reliever such as Advil®PM (to help you get a better night's sleep). Bonus: one study showed that getting more sleep may help lower your sensitivity to pain.

4. You had a glass of wine or nightcap before bed. While alcohol makes you drowsy, it prevents you from getting as much restorative sleep through the night. The result: You feel sluggish instead of refreshed in the morning. Alcohol is also a diuretic, which means that you may need to make more trips to the bathroom throughout the night. Make your last call a few hours before turning in, and you'll get more rest.

5. You hit the gym at 8 p.m. A sweaty workout raises your core body temperature for a few hours. This can keep some people from falling asleep easily. Try exercising in the afternoon or morning. According to one study, people slept the most soundly when they worked out at 7 a.m. Only have time in the evening? Stick with a gentle routine, such as yoga or stretching.

Impact of Sleep Problems

A poll by the National Sleep Foundation found that difficulty sleeping interferes with everyday life more among people with fleeting and minor pain than for those without pain.*

Here's how:
• Nearly 1/3 of people said they experienced difficulties in their relationships, 10% more than those without pain.

• 4 out of every 10 people suffering sleeplessness with minor pain said their mood was affected.

• Daily activities were impacted 2x more for people with pain than those without pain.

• 1/3 of people said their sleeplessness with minor pain has interfered with their work.
*Source: National Sleep Foundation, 2015 Sleep in America Poll: Sleep and Pain
How does pain affect the ability to sleep?
Pain cannot only delay the onset of sleep, it can cause frequent or early morning awakenings and prevent you from
getting the deep, restful sleep you need. That's why, even if you do get some shut-eye, you may not feel rested.

Why do I need a pain reliever with a sleep aid?
If pain is keeping you from falling asleep, a product that combines a pain reliever with a sleep aid (like Advil®PM) can help
ease your pain and help you fall asleep and stay asleep.

How are Advil®PM products different than other nighttime pain relievers?
Advil®PM products were the first nighttime pain reliever with ibuprofen. Advil®PM gives you a better night's sleep than other
brands because you'll spend less time lying awake with annoying aches and pains and more time asleep.

Is Advil®PM safe?
For more than 30 years, extensive consumer use and numerous clinical studies have shown that ibuprofen, the pain
reliever in Advil®PM, and diphenhydramine, the sleep aid in Advil®PM, are both safe and effective when used as directed.
Please refer to the full product labeling for additional safety information related to Advil®PM.
Additional Pain Relief Products
Advil
Advil Liqui-Gels Pain Reliever Refill, 2 Tablets Per Packet, Box Of 50 Packets
https://request.eprotect.vantivcnp.com/eProtect/js/payframe-client3.min.js?d=20200926