Samsung Fast Charge Wireless Charging Pad, Black Sapphire
Item # 166562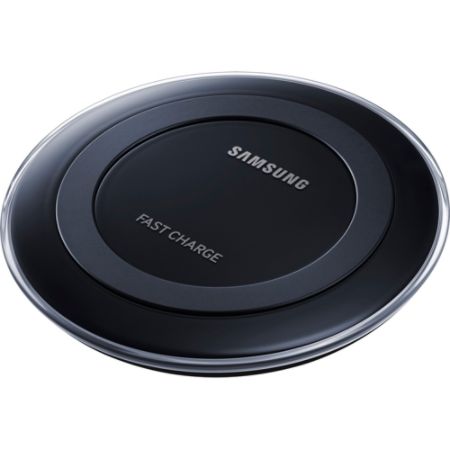 166562
was removed.
Thank you, you will now be redirected to comparisons.
Just a moment while we prepare the page
Check In-Store Availability
---
Description
Our new Fast Wireless Charging Pad can utilize an AFC TA to achieve 9W of power transfer to the Galaxy Note5 or Galaxy S6 edge+, so you can maximize productivity for your business. This is without the need to plug your device into a wall charger or USB port, or to remove your Samsung cover or most 3rd party covers. And you can still use standard 2A TA or charge your other Qi-compatible devices at the typical 5W rate.
---
Product Details
| | |
| --- | --- |
| Item # | 166562 |
| Manufacturer # | EPPN920TBEGUS |
| | |
| --- | --- |
| brand name | Samsung |
| device compatibility | Samsung Galaxy smartphones: Note 5; S6 Edge+; S4; S5; Note 3; Note 4; Note Edge; S6 |
| Input Connectors | 5 pin Micro-USB Type A |
| Input Connectors Qty | 1 |
| manufacturer | Samsung |
| ports | 1 USB |
| What's Included | Fast Charge Wireless Charging Pad, Black Sapphire; Fast Charge Wall Charger; User Manual |
---
Customer Reviews
Samsung Fast Charge Wireless Charging Pad, Black Sapphire
is rated out of
5
by
204
.
Rated

1

out of

5
by
JacknJill23
from
Works sporadically
I was excited to purchase this wireless charger but it has never worked well and now works only sporadically. I usually have to remove my S8 from its case to even get it to try to charge, then it will begin charging and suddenly stop. Everything else works in the outlet so that isn't it. Very annoying.
Date published: 2018-06-28
Rated

5

out of

5
by
aritario
from
Really great!!!
Works great, nice color, excellent size for my SG9+ and charge my phone very fast.
Date published: 2018-06-07
Rated

1

out of

5
by
boojum
from
Finicky, horrible design. Save your money.
Got this with my new phone, because it seemed like it would be a major convenience. Save a few seconds every time I need to charge-- no fiddling with a wire, just toss the phone down on the flat surface, done. No hunting around in the dark for the charging cable if I read my phone in bed. Great, right? It's a fantastic idea, but the execution is awful. Details below, but the executive summary is, 1. it's *incredibly* finicky about the phone's positioning, and 2. its physical design makes it very difficult for the user to figure out what the positioning actually is, and 3. its UI experience is horrible and misleading about whether you've done it right. When you can actually get the darn thing to work... then yes, it does charge the phone reasonably quickly. But no faster than a decent plug-in speed charger. Comparing this gimmick to a standard plug-in speed charger, here's how it stacks up: - CHARGING SPEED: About the same. No advantage to the wireless charger. - CONVENIENCE: Much more convenient and easy to use a standard plug-in charger. The wireless charger takes a lot more finicky fiddling. - RELIABILITY: Plug-in charger is much more reliable. The idiotic design of the wireless charger (see details below) makes you think it's charging when it's not, with the result that you come back hours later and only then discover that the phone didn't charge. In short, my advice: Save your money on this useless gimmick and just plug your phone into a regular charger-- it'll be cheaper, more reliable, and much more convenient. Details about the three main complaints above: --- FINICKY POSITIONING: The whole point of using a wireless charger is that it's supposed to be quick and easy-- just toss your phone down on it, right? Except that it isn't. My experience has been that the phone has to be *PERFECTLY* centered on the charger in order for the charging to happen. By "perfectly", I mean "with a tolerance measured in millimeters". If it's off by half a centimeter, it doesn't work. At all. I don't mean "oh, it charges slower if it's a bit off". It's all-or-nothing. Either you have the phone perfectly centered, or else it doesn't even try. That wouldn't be so bad if it had any physical design features at all to help you center it (it doesn't), or if you could even tell whether you've done it right (it doesn't; it lies to you and says it's charging when it's not). More on those two flaws below. --- POOR PHYSICAL DESIGN: It's really, really hard to get the phone perfectly centered on the pad because neither the phone nor the pad provides any visual or tactile indicators that you've gotten it right or wrong. The pad is a simple big flat circle with no obvious markers on it. The phone is a simple flat rectangular slab, also with no obvious markers on it. It would have been so simple and obvious to design the charger so that it would make positioning automatic and easy-- for example, DON'T MAKE IT FLAT. Just add some bumps or ridges or something that would naturally, physically guide the phone into the correct position. Or, failing that, for pete's sake at least put some VISIBLE GUIDE MARKS or something to help you gauge centering. Or heck, even MAKE IT THE SAME APPROXIMATE SHAPE OF A PHONE, i.e. an oblong rectangle instead of a circle, since it's a lot easier to visually gauge "is this rectangle centered on that rectangle" rather than "is this long, skinny rectangle centered on that circle". But no, they didn't do any of those things. There's absolutely no help, either tactile or visual. You have two completely different shapes, and you need to line them up so their centers exactly match, and you can't actually see either of their centers because they're not marked in any way. The only way I've found to be able to place the phone with enough accuracy to start charging, most of the time, is to first make sure the room is well lit, then stand with my head *directly* above the center of the charger looking straight down at it, then place the phone carefully. And even that only has about a 60-70% success rate, and the idiotic UI design (see below) means that I have to remember to wait an inconveniently long time to tell whether I got it. It means, for example, that there's no possible way I can ever check my phone in the middle of the night, because I daren't touch it. If I disturb it from the charger in any way, it'll be utterly impossible to start it charging again without getting out of bed, turning on a bright light, and standing over the table where it's charging. Absolutely ridiculous. --- INFURIATINGLY WRONG-HEADED UI DESIGN Okay, so it's incredibly difficult to get the thing centered just right so it'll charge. But at least you can tell whether you've done it correctly, so you can adjust it if you've messed up (which you probably have), right? Wrong. It's about the worst possible UI design you can imagine. Not only does it fail to provide useful feedback about whether you're charging properly... it ACTIVELY MISLEADS you by lying to you and making you think it's charging when it isn't. Physically, there are two ways that supposedly should give you feedback about whether charging is happening. The first is the phone itself-- when it starts charging, there's a display that pops up on the screen and lets you know that it's happening. The second is the charger: it has a blue LED ring, with easy-to-follow display status. Solid blue = charging, solid green = finished charging, flashing blue = there's a problem and it's not properly charging. So, with those two feedback mechanisms, it's easy, right? The problem is that both of those mechanisms are false and misleading. It actively lies to the user. The way it *ought* to work is, 1. I put the phone down on the charger, 2. I see a "charging" readout on the phone and a solid blue glow on the charger, 3. I smile and walk away. And if I've gotten it wrong, it should be obvious. For example, the charger shouldn't light up and the phone shouldn't say "I'm charging". Or if it's close-but-not-quite-close-enough, the charger should do its flashing-blue-light thing and the phone should display some sort of warning. Right? Except that it doesn't do any of those things. Even though the actual "effective zone" for charging is only a couple of millimeters across... it has a *much* bigger zone for detecting that there's a phone on the pad-- a few centimeters across, very easy for a casual toss-my-phone-on-the-pad operation. Except that when the phone is in that "twilight zone" (not perfectly centered, but within a couple centimeters of it), both the phone and the charger act like they're charging when they're not. Here's the sequence of operations: 1. I put my phone down on the charger. It looks centered to me, but (unbeknownst to me) is actually off-center by a few millimeters. 2. Immediately the phone pops up its wireless charging indicator, and the blue ring lights up solidly on the charger. In other words, it is EXACTLY sending very clear and unambiguous feedback that "I am charging now." 3. "Oh good," I think, and walk away. 4. TEN SECONDS LATER, the charger starts flashing to say "I'm not charging". It is *beyond* aggravating. I had to completely retrain myself: "Do not charge phone and walk away". Instead, I have to place the phone, wait ten seconds until it starts flashing, then try to adjust the positioning and repeat. Eventually I get it right-- which is also frustrating because there's no visual indication that "the waiting period has elapsed and I'm successfully charging now", I have to just stare at the darn thing until I'm pretty sure "if it were going to fail, it would have done so by now". I've had this useless piece of junk for a month now, and have continued using it (rather than resorting to the simpler, much more convenient, and much more reliable plug-in charger) simply out of sheer bloody-minded stubbornness that I don't want to let it get the better of me-- surely, with practice, it'll be okay? But it's been a month, and with practice I *have* improved a bit... but I *still* fail to appease it from time to time, and wake up in the morning with an uncharged phone.
Date published: 2018-06-06
Rated

5

out of

5
by
Anonymous
from
great charger
was given as a gift it works great with my new phone
Date published: 2018-05-01
---
From the Manufacturer

|

Powered by
Samsung