RPG Maker XP, Download Version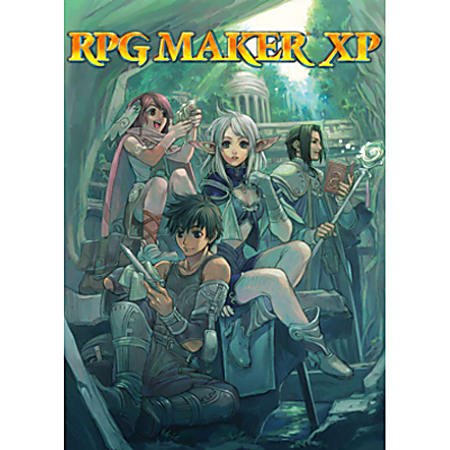 Description
RPG Maker XP gives you the power to create your own original RPG on Windows. Its popular and user-friendly interface has been carried over from RPG MAKER 2000, and its graphic capabilities, battle screen layout, and data packaging features are better than ever! By popular demand, this XP installment also contains a brand-new Scripting function. RPG MAKER XP is perfect for beginners and experts alike.
RPG MAKER XP is full of the functions you've been asking for, including game data encryption and a scripting feature that lets you change the very heart of the RPG MAKER engine. By improving the operating environment, the program can now provide support for a full-color display and greatly enhanced graphic capabilities.
The game screen has been expanded to 640x480 pixels, much larger than previous RPG MAKER titles. With support for PNG full-color mode and alpha channel, you can adjust the settings for graphic translucency as well as specify the transparent color. Plus, there are now three map layers, allowing you to create more complex maps.
RPG MAKER lets you create an original role-playing game without any specialized knowledge or training. RPG MAKER™ XP has an outstanding level of freedom even compared to the other titles in the series.
Easy to Use
You might think it's hard to make great games, but it's a breeze when you use RPG MAKER XP. First, make a map that will serve as the stage for your adventure, then set up your heroes, enemy monsters, items, magic-everything you need for a good RPG creation. Finally, create some events and place them around the map, and your very own RPG is complete. Map making is simple and easy when you have tiles to work with! You can even use ready-made graphics for heroes and monsters, so all you have to do is give them stats and names.
Effortless Event Creation
Townspeople, dungeons, treasure chests, boss battles - all of the things that help develop an RPG's story can be created through events.
Specifications
| | |
| --- | --- |
| Item # | 265997 |
| Manufacturer # | SQLXLQDEFXD25WC |
| minimum processor compatibility | Intel Pentium 4 1.5 GHz equivalent or faster |
| brand name | Degica Co., Ltd. |
| publisher | Degica Co., Ltd. |
| version | 1 |
| distributor | Arvato digital services Canada, Inc. |
| additional requirements | Internet connection required for product activation; DirectSound-compatible sound card; 1024 x 768 resolution or higher |
| software type | Download |
| minimum hard disk space | 500 MB free space or more |
| ESRB rating | Everyone |
| operating system compatibility | Windows 8 Enterprise; Windows 8 Professional; Windows 8; Windows 8 Enterprise x64; Windows 8 Professional x64; Windows 8 x64; Windows 7 Starter; Windows 7 Home Basic; Windows 7 Home Premium; Windows 7 Professional; Windows 7 Ultimate; Windows 7 Enterprise; Windows 7 Home Basic x64; Windows 7 Home Premium x64; Windows 7 Professional x64; Windows 7 Ultimate x64; Windows 7 Enterprise x64; Windows Vista Home Premium; Windows Vista Business; Windows Vista Enterprise; Windows Vista Ultimate |
| download size | 28546 KB |
| memory requirements | 256 MB of RAM or more |