Individual Software Professor Teaches QuickBooks 2021 (Windows)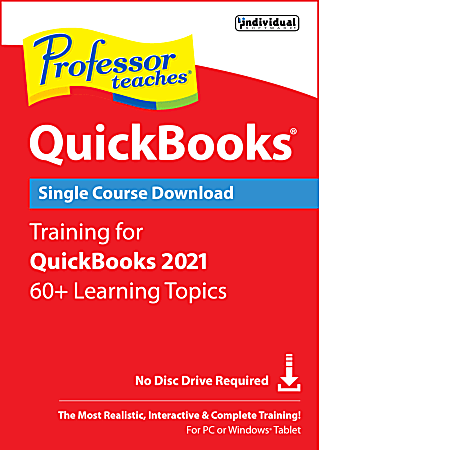 Description

Professor Teaches QuickBooks 2021 is a user-friendly computer training software designed to teach you the ins and outs of Intuit QuickBooks Pro. This is a hands-on, interactive course that will provide everything you need to know about the fundamentals of QuickBooks Pro 2021. 
What is Intuit QuickBooks Pro 2021?
QuickBooks Pro 2021 is the premier small business accounting software designed to help small businesses manage product inventory, sales, invoices, company payroll, and other aspects of running a business.
What are the Benefits of Learning Intuit QuickBooks Pro 2021?
Harness the power of QuickBooks Pro small business accounting software to help your business grow. With QuickBooks Pro you can:
Track sales
Track expenses
Enter customer payments
Create invoices and forms
What You Will Learn in Professor Teaches QuickBooks 2021
Our extensive computer training course will cover the following topics:
• Accounting Basics
• QuickBooks Fundamentals
• Setting Up Lists
• Creating Items
• Entering Transactions for Incoming Funds
• Maintaining Financial Information 
• Working with Reports 
Every Professor Teaches Course Includes:
• Practice in a Realistic Simulation of the Software
• Hundreds of Learning Topics
• 4 to 8 Hours of Training per Course
• Realistic Simulations
• Beginner to Advanced Topics
• Self-Paced Learning Objectives
• Introductions and Summaries
• Interactive Exercises
• Professional Voice Narration
• End-of-Chapter Quiz Questions
• Checkmarks for Completed Topics
• Glossary, Index, and Search
• Professor Answers for Instant Training
Specifications
| | |
| --- | --- |
| Item # | 6717177 |
| Manufacturer # | QLFVWZXZGVKNHTA |
| operating system compatibility | Windows Vista Starter; Windows 8; Windows 10 Home; Windows 7 Ultimate x64; Windows XP; Windows 10; Windows 7 Starter; Windows 7 Ultimate; Windows 8.1 64-bit; Windows 7 Pro; Windows 10 Education; Windows 7 Enterprise 64-bit; Windows 8.1 Pro 64-bit; Windows 7 Home Premium; Windows 10 Education x64; Windows 10 Enterprise x64; Windows 7 Home 64-bit; Windows 7 Home Premium 64-bit |
| publisher | Individual Software |
| release date | 2021-01-04 |
| software type | Download |
| version | 1.0 |
| platform | Windows |
| Fulfillment Type | Digital |
| Minimum Storage Drive Space | 150 MB |
| Product Type | Instructional Software Download |