The global pandemic has brought upon lots of changes to our daily life, one of which has been the transition to remote work. We surveyed nearly 1,000 remote workers to get their take on the matter and to ascertain what is needed to be successful in this kind of environment.
Keep reading to discover:
Important habits remote workers incorporate into their workdays
Key elements they believe define job success
How they spend little breaks while on the clock
Online platforms and equipment used most
Good Habits
To achieve "success" as a remote worker, the most important habit to develop of those surveyed was instilling the necessary work-life balance. Over half of respondents also believed taking short breaks was crucial to incorporate into their daily schedules, and just under half felt strongly about being a team player and making sure to start work at the same time each day.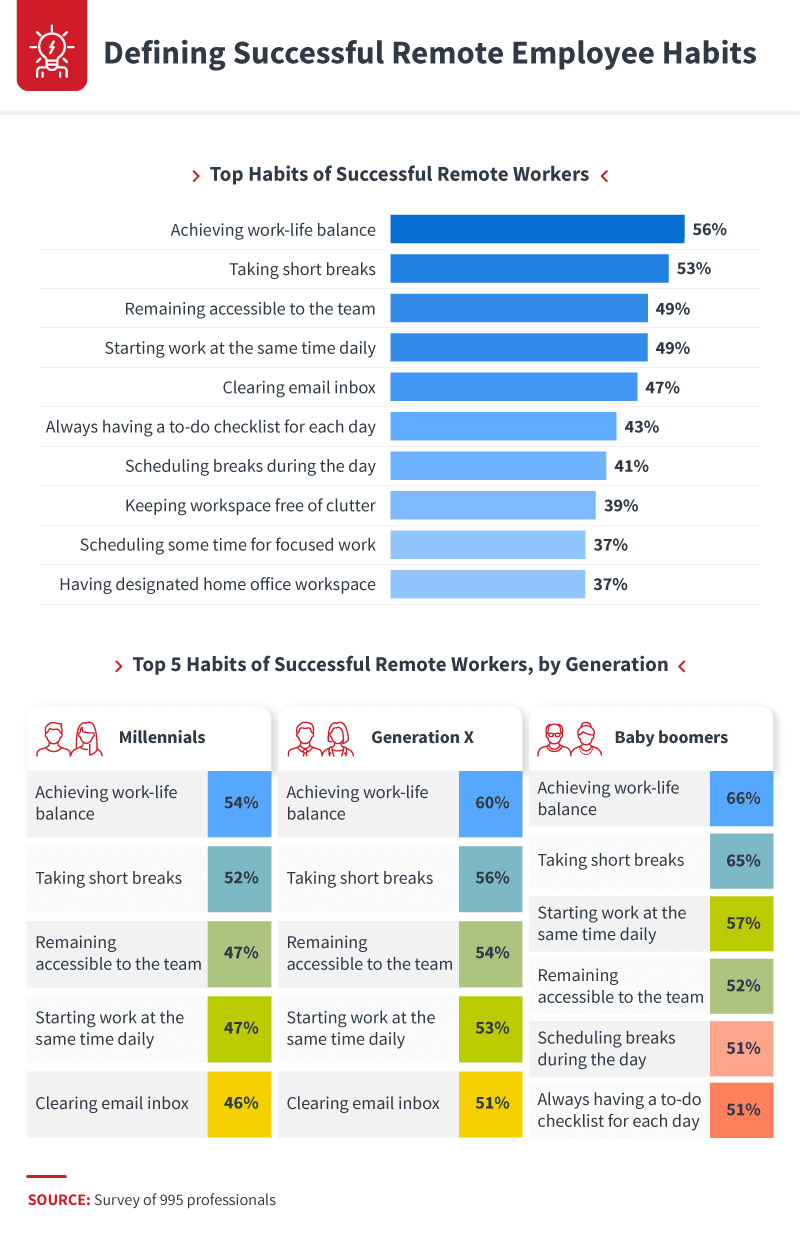 When analyzing by generation, achieving a work-life balance was the top habit for successful millennials, Gen Xers and baby boomers. To live in an environment most conducive for a productive workday, employees should apply some key strategies to make this happen. The first step should be to define your home office – how can you make this space feel lively and comfortable? The next is to set boundaries; in other words, set your office hours and stick to them. Other tips include trying your hand at meditation, staying connected with friends and family and reminding yourself that this pandemic won't last forever.
Defining Job Success
According to 72% of respondents, salary was the most important element that defined job success. Just under 70% thought the ability to work independently was most crucial, and over 50% believed relationships with their co-workers and boss were the leading job success determinants. Developing a strong employee/employer relationship comes with benefits for all parties involved, such as higher motivation, productivity, loyalty, easier conflict resolution and a reduction in company turnover.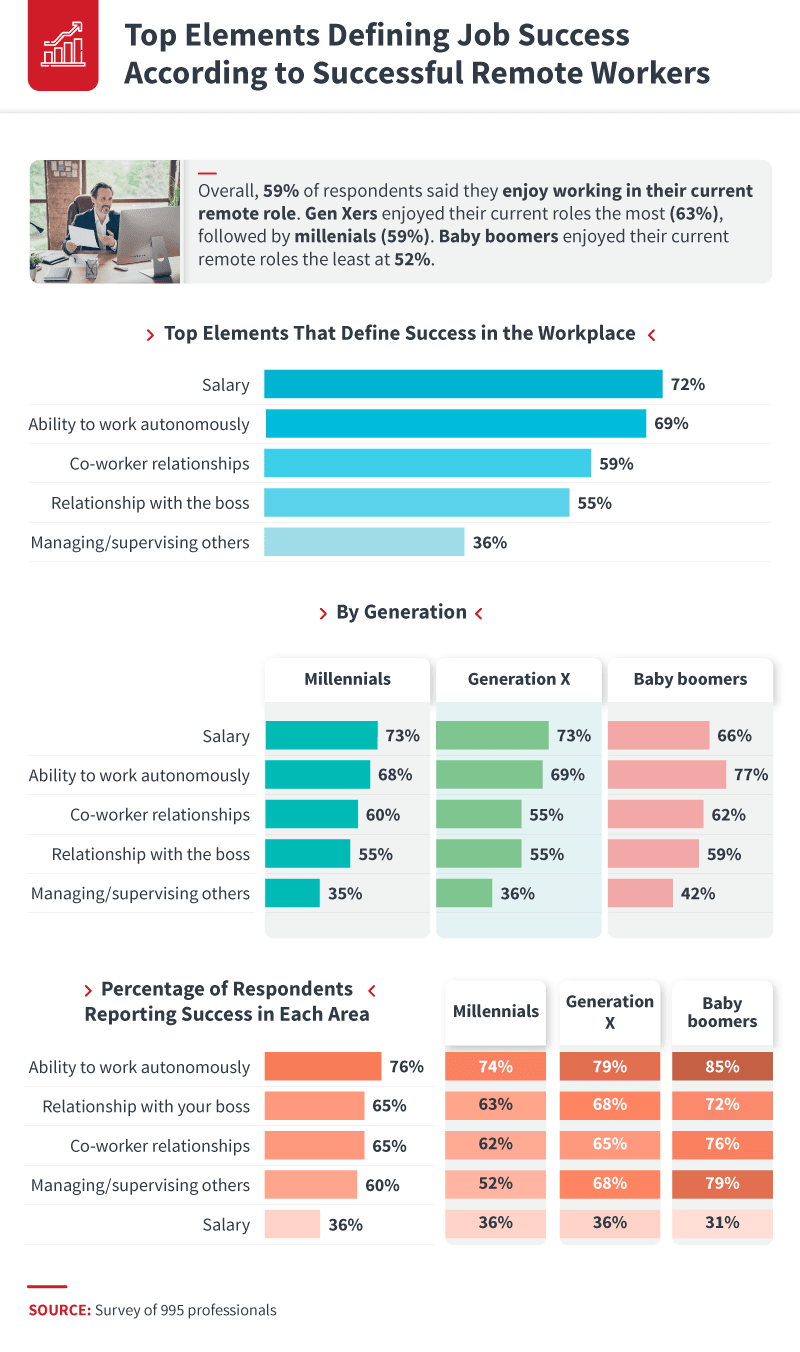 While millennials and Gen Xers were on board with salaries being the defining factor of job success, baby boomers valued the ability to work autonomously more so than the contents of their paychecks. Seventy-six percent said they were confident in their ability to successfully work alone, and 65% had solid relationships with their bosses and co-workers. In all the listed areas, aside from salary, baby boomers felt they were the most successful.
Taking a Break/Measuring Success
We asked our respondents to define what success meant to them in terms of their salary, and responses varied by generation. On average, a successful annual salary was considered to be right at $73K. Gen Xers had the highest salary standard at $82.7K, whereas millennials decided on a more modest $69.3K. Combining the three generations, the average annual salary increase needed to mark success was 10.7%. Once again, Gen Xers had the highest expectations, while it was baby boomers who would be happiest with the lowest increase.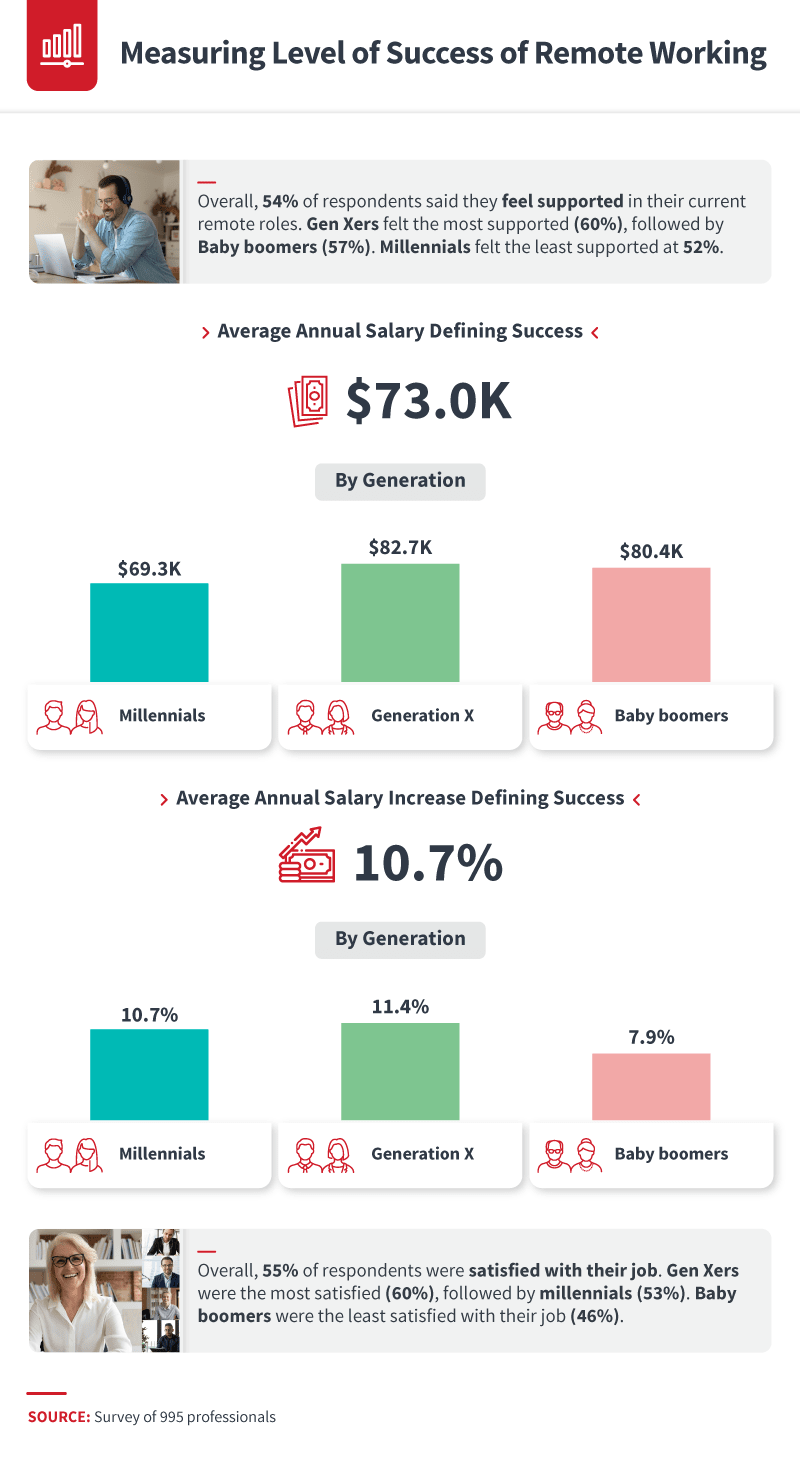 During working hours, it can be easy for people to get distracted and have their focus shift elsewhere. Respondents spent close to half an hour on music streaming, watching TV, and social media platforms – millennials spent the most time on these, compared to Gen Xers and baby boomers. In fact, millennials procrastinated slightly more than older generations across all listed platforms.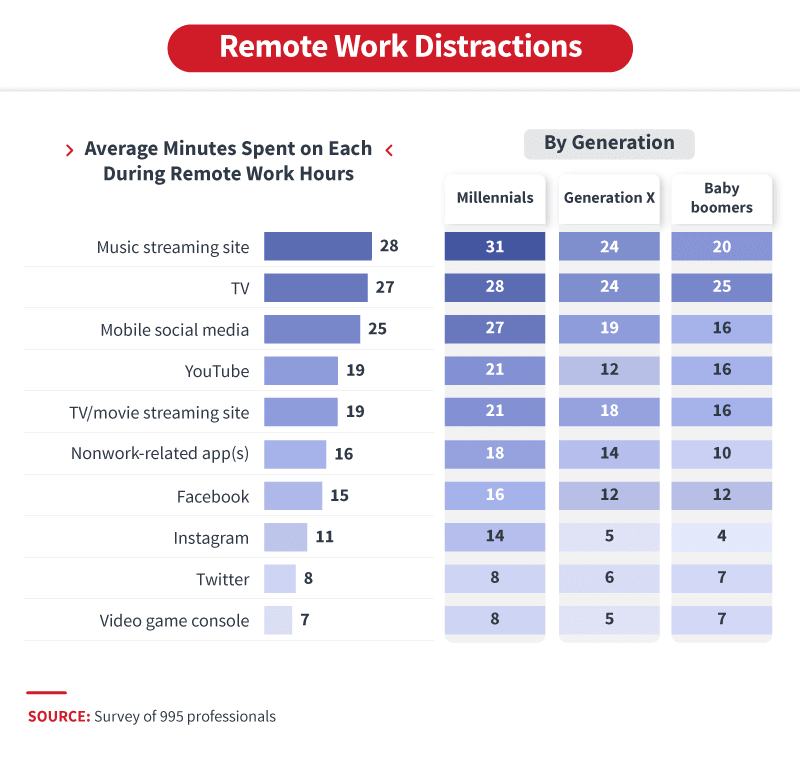 Taking a work break or being temporarily distracted for a few minutes of the day isn't an uncommon occurrence. From kids to pets to TVs, there will likely be a few work distractions throughout the day, though planned breaks may be a more productive way to strategically work in some time to reboot.
Remote Tools
Now that many are still working remotely, many online applications are being used to perform day-to-day work functions. Among the ones used on a daily basis by successful remote workers, videoconferencing, team chat, and cloud storage platforms were the most essential.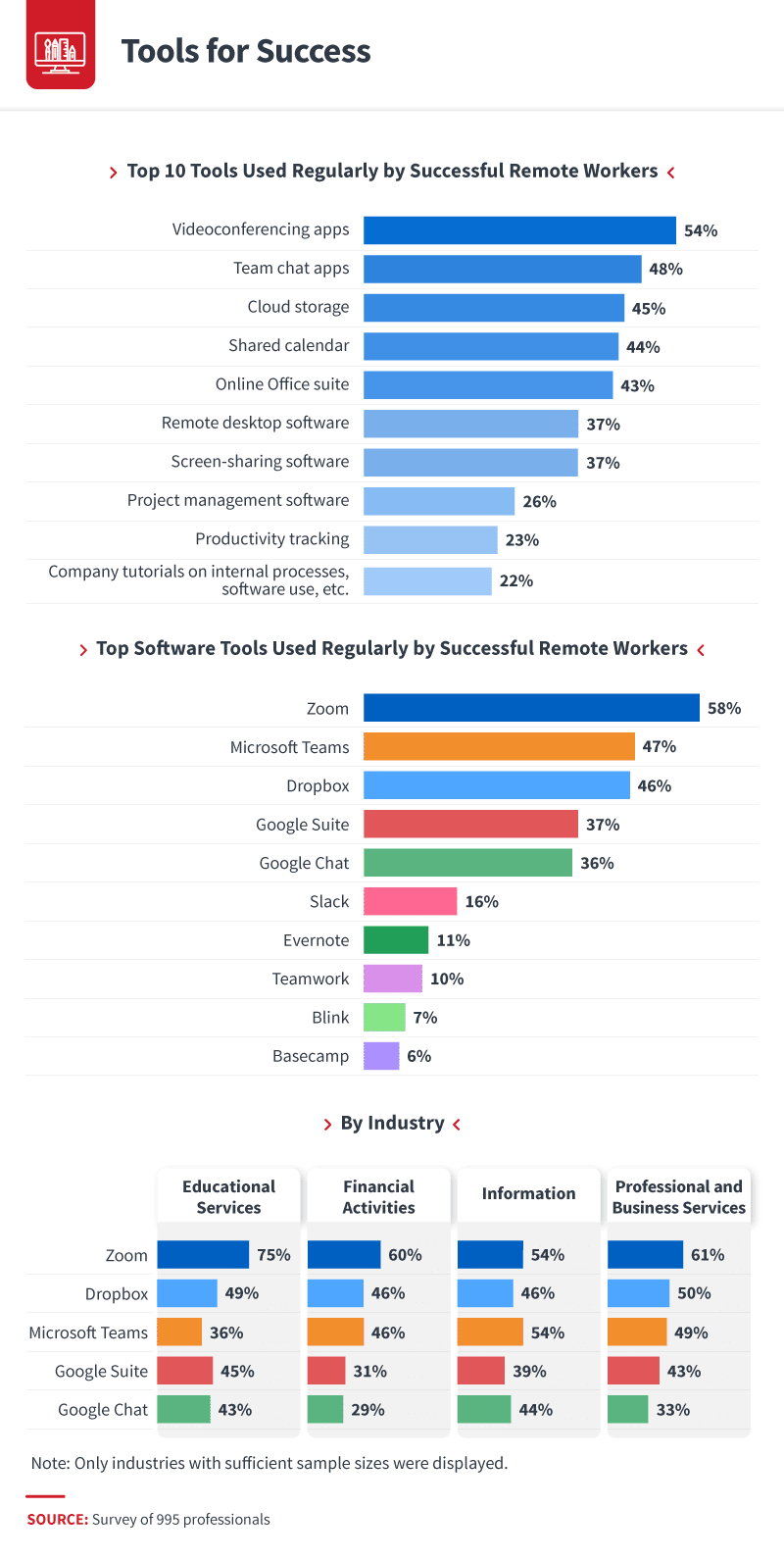 Zoom was the most used platform with a 58% usage rate, followed by Microsoft Teams at 47% – both of these applications are primarily used for videoconferencing and chatting. Other popular platforms like Dropbox and Google Suite are used for file sharing and other collaboration tools.
Assessing various software tool usage by industry, Zoom was more relevant in the educational services sector. Since the start of the pandemic, the Zoom platform has been used in school curriculums worldwide to facilitate remote teaching. The interface allows teachers to effectively manage their classrooms and increase engagement using a variety of different functions (e.g., breakout rooms, polling).
Remote Equipment
Seeing as many remote workers are glued to their desks when working, we were curious about the equipment that has become indispensable in the remote workspace. The two most used pieces of equipment were headphones and a mouse, and just over half of respondents invested in an adjustable desk chair.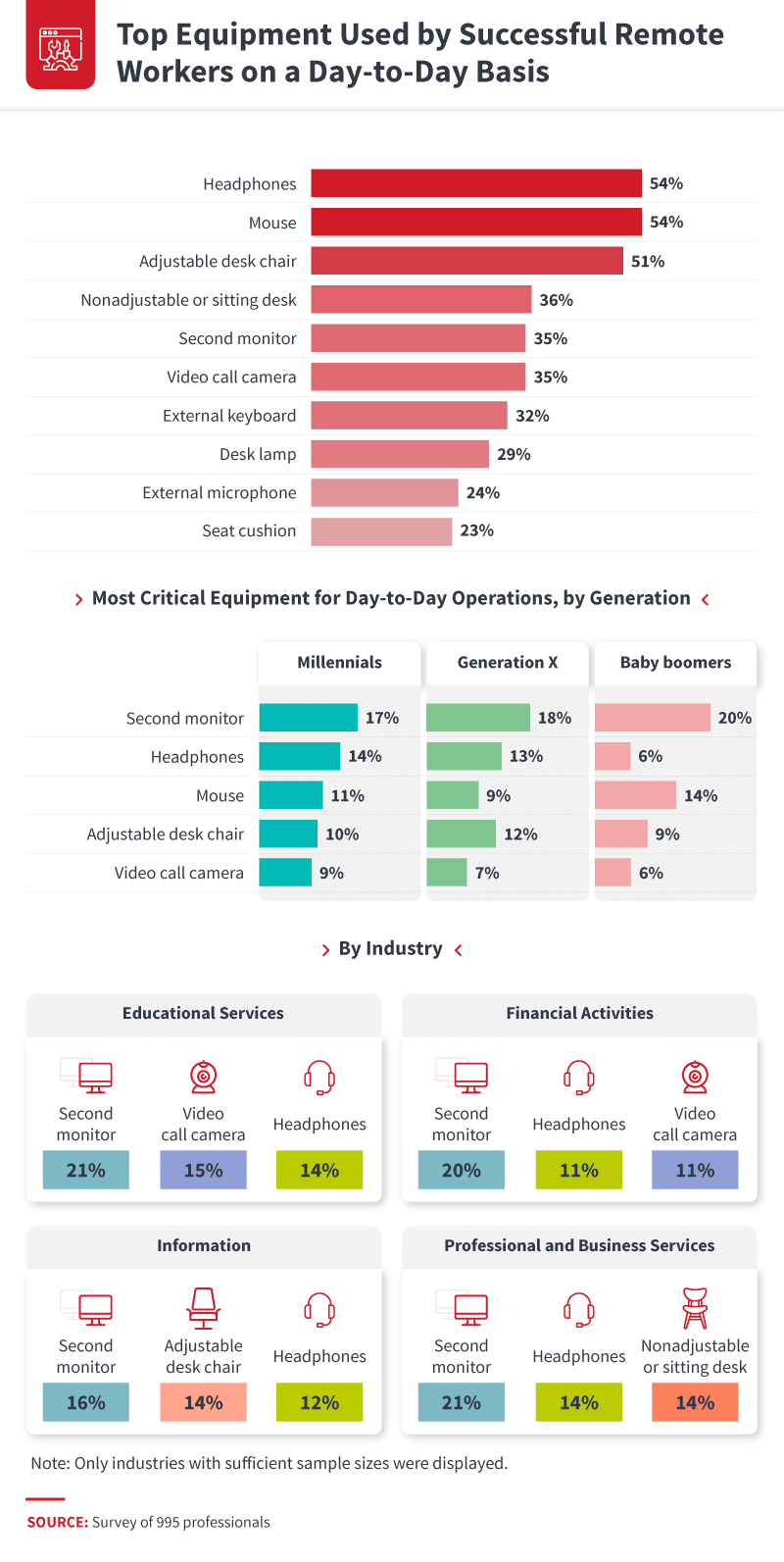 The most critical item, though, among all generations, was the presence of a second monitor. Having a dual monitor setup can lead to enhanced productivity and multitasking, as the hassle of constantly flipping between tabs is eliminated. Millennials and Gen Xers found headphones to be more of a necessity than baby boomers, but the baby boomers valued their mice much more – ergonomic mice in particular are designed to fit your hand naturally and lessen potential discomfort that you might eventually feel from a normal mouse, making it an attractive option for those who might be more susceptible to this type of irritation.
Across all the listed industries, employees were in agreement that having a dual monitor setup was the most critical aspect of their remote working experience. Headphones also claimed a top three spot in each queried industry.
More on Online Platforms
Revisiting the topics of teaching and mentoring others as well as collaboration, Zoom and Microsoft Teams were used the most for both facets of remote work and learning. While the usage was much closer for collaboration purposes, Zoom was used more for teaching and mentoring others.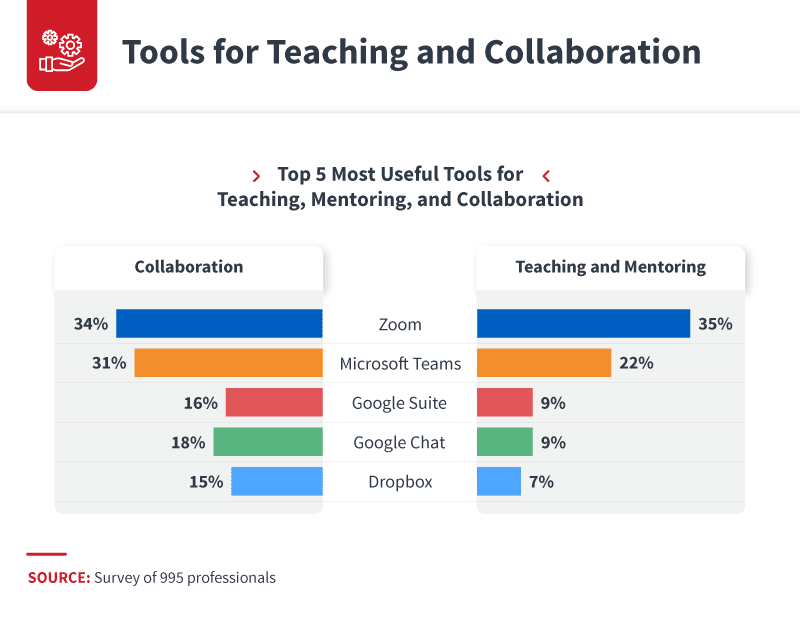 We can see that in order to become a successful remote worker, it's useful to have daily habits that can help workers establish a schedule, with scheduled work breaks included. And though respondents said achieving a level of work-life balance was a crucial component for success, having the right tools, software and equipment to create ease and touchpoints of communication throughout the day were also cited as being critical for day-to-day performance. Collaboration tools like Zoom and Microsoft Teams were another key contributor to success. Remote workers also valued having a dual monitor setup to improve productivity and facilitate multitasking.
Whether employees plan on remaining remote or going back to their workplace, it's clear that business products geared towards increasing productivity and communication will remain important to a successful experience, now that the world has adapted to a new and different standard of working due to COVID-19.
Work from Anywhere Solutions
Office Depot can help you and your workforce accomplish more with a variety of business essentials and tools and technology to help work from anywhere . With a full suite of business solutions, there's no better place to elevate your business, upgrade your home office or pick up some essential tools to optimize your workflow. Head over now to Office Depot today to start or continue some of your own successful work habits and practices.
Methodology and Limitations
In order to analyze their habits, we surveyed 995 professionals who worked remotely and rated themselves as successful remote workers. Around 10% of these employees worked part time, while 90% of employees surveyed worked full time. Ages ranged from 19 to 69, with around 45% of professionals surveyed identifying as women, 54% as men, and 1% as nonbinary or nonconforming.
Certain limitations with survey data apply, such as telescoping, exaggeration, and selective memory. We did not statistically test our hypotheses; this was a purely exploratory survey-based analysis of remote work habits of professionals.
Fair Use Statement
How has the remote work experience been for you? If you know someone who might benefit from this article, feel free to share it with them. We just ask that you do so for noncommercial use only and to please provide a link back to the original page so contributors can earn credit for their work.