Choose from hundreds of custom stamps
From personal signatures to company or team logos, monograms & borders, Office Depot® OfficeMax Print and Copy services has all the custom stamps you need to leave your owner personal mark on any type of documents.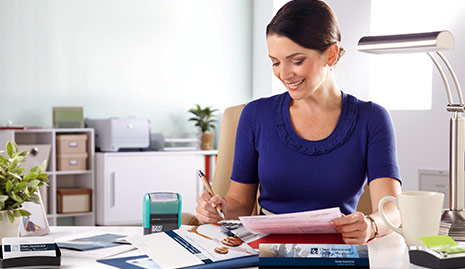 Helpful Tips
Custom rubber stamps can be used for many different tasks to make your business more productive.
Incrementing date and number stamps reduce writing time and errors.
Add personalization with address stamps, embossers, and signature stamps.
Clearly mark, organize and track all of your documents with daters.
Simplify depositing money with personalized stamps including corporate name & bank account.
Signature stamps will never leave you without that needed signature again.
Visit your Office Depot® or OfficeMax® store to order a custom stamp that can be ready the same day. Quantity limitations apply. See below.
SAME DAY FULL TERMS AND CONDITIONS:
Offer applies to services performed in-store only at Office Depot® and OfficeMax®. Order must be placed in-store by 2:00 p.m. and Same Day Service must be requested on job ticket at time of order. The following quantities are not eligible for Same Day Service: Digital Printing & Copies: Black & White (quantities over 3,000), Color (quantities over 1,000); Binding (more than 25 booklets/50 sheet maximum with covers); Custom Stamps (quantities over 10 or non-Brother® stamps); Posters and Banners (quantities over 5/over 24" wide; print-ready artwork must be provided); Laminating (quantities over 50, 8.5 x 11 sheets) and Shredding (over 50 pounds). Posters and banners may not be available in all locations. We reserve the right to limit quantities sold to each customer/household/business.