Laplink® PCmover Professional 11, 1-Users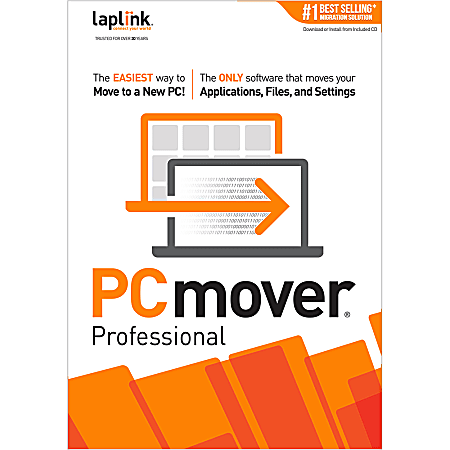 Description

PCmover Professional is the ONLY software that automatically transfers applications, files, settings, and user profiles from an old PC to a new one! It's the easiest way to move to a new PC without leaving anything behind, even when there are different versions of Windows on the old and new PC. Nothing is changed on the old PC and nothing is overwritten on the new PC.
To use PCmover, simply install it on both your old and new Windows computers, and follow the easy-to-use wizard.  When the transfer is complete, your new PC will have the personality and functionality of your old one. Because most transferred applications are installed ready-to-use on the new PC, there's usually no need to find old CDs or previously downloaded applications, serial numbers, or license codes.
 Laplink's PCmover is the best-selling migration solution and the ONLY one Microsoft® recommends.
PCmover Professional 11 Key Features:
Easy-to-Use – Install PCmover on both of your computers and follow the simple wizard to transfer everything you select to your new PC.
Set It and Forget It – You start the transfer and walk away. PCmover does the rest!
PCs Auto Connect – Discovers and connects PCs using the fastest method detected.
Optimized for Fastest Transfer – Provides maximum performance and time savings. You will quickly be using your new PC with everything ready to go.
Complete Selectivity – Automatically transfers all selected applications, files, folders, settings, and user profiles to your new PC.
USB 3.0 Support – Transfer data up to 5 Gbps with a Laplink SuperSpeed USB 3.0 cable
"Undo" Feature – Quickly reverse changes made to your new PC if you change your mind or want to re-do the transfer with different selections.
24/7 FREE Transfer Assistance - Simply set up your new PC with the help of a certified PC migration expert, over the phone or remotely. Free, 24 hours a day, 7 days a week.
Microsoft's® recommended migration solution
Specifications
| | |
| --- | --- |
| Item # | 6575408 |
| Manufacturer # | F6LBAABABEAQCBC |
| number of users | 1 |
| operating system compatibility | Windows 7 Pro; Windows 7 Ultimate x64; Windows 7 Starter; Windows 8 Pro 64-bit; Windows Vista Business 64-bit; Windows XP; Windows 7 Home Premium; Windows 10 Home; Windows 7 Home Premium 64-bit; Windows 7 Enterprise 64-bit; Windows Vista Business; Windows 7 Ultimate; Windows Vista Home Premium 64-bit; Windows Vista Home Basic; Windows 8 Enterprise; Windows 10; Windows 10 Education; Windows Vista Ultimate; Windows 10 Enterprise x64; Windows 8.1 64-bit; Windows 10 Education x64; Windows 8 |
| publisher | Laplink Software |
| software type | Download |
| version | 11 |
| platform | Windows |
| Fulfillment Type | Digital |
| Minimum Storage Drive Space | 200 MB |
| quantity | 1 |
| brand name | Laplink |
| Product Type | Utility Software Download |